CHICKEN PROSCIUTTO WITH MUSHROOM SAUCE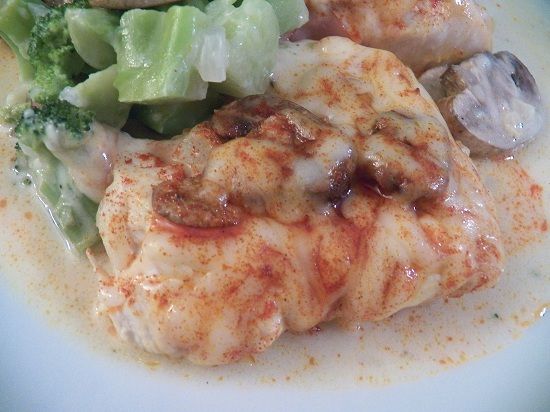 Ingredients
3  whole chicken breasts, skinless, deboned
5  tbsp butter
1 cup grated Swiss cheese
1/4 onion, finely chopped
1/4 cup all purpose flour
2  tablespoons Dijon mustard
1 cup chicken broth
1 cup half and half
1/4 cup white wine (or you can substitute 1 tbsp white wine vinegar with 1/4 c water like I did)
3  4.5 ounce jars of sliced mushrooms, drained (I used whole mushrooms instead of a can)
14 -16 ounce package frozen cut broccoli
6 slices prosciutto (you may use thin sliced deli ham)
Paprika (to taste)
1. Remove any fat from the chicken breasts, and cut them in half, then cut them across to make 6 servings. I just used boneless, skinless chicken strips but I am sure its cheaper the other way.
2. Place the 2 tablespoons of butter in a large non-stick skillet over medium heat, and fry the chicken on both sides until light golden brown on each side. Set chicken aside. Be sure to not overcook the chicken as it can make it tough.
3. Add 3 tablespoons of butter to the skillet, add onion, and cook until just tender. Remove the pan from the heat, add the flour and the mustard. Stir and then add chicken broth, half-and-half and the wine. Cook and stir over low heat until nice and thick, then add the drained mushrooms and 1/2 cup of Swiss cheese, stir until the cheese melts. Turn off heat.
4. Grease a 3 quart dish. Layer the broccoli evenly in the bottom of the greased dish. Using a ladle, drizzle half the sauce over the broccoli. This should take around 3-4 ladles. Add the prosciutto on top of the sauce, then add the chicken. Hide any prosciutto under the chicken. Cover chicken evenly with the rest of the sauce.
5. Pre-heat the oven to 400 degrees and bake 20 to 30 minutes.
6. Remove from oven, add the remaining cheese and sprinkle the paprika on top and return to the oven for 2 minutes or until the cheese is melted.
7. Let dish stand five minutes before serving. Cut into 6 servings and carefully lift each serving out of the dish with a spatula. Using a large spoon drizzle mushroom cream sauce over each serving.
Here is another one of my entries in the in the Grand Spring Recipe Contest!
PLEASE VOTE FOR MY RECIPES IN THE GRAND SPRING CHALLENGE AND YOU CAN WIN PAYPAL CASH!!!!!   REG to Vote HERE and they will send you a password (check spam). Then go and vote for these three recipes and share on FB and Twitter. Paypal CASH will be awarded from random shares:
http://www.zuuzs.com/contest/2012/05/kat-balog-roasted-grape-tomato-and-basil-crostini/
http://www.zuuzs.com/contest/2012/05/kat-balog-chicken-prosciutto-with-mushroom-sauce/
http://www.zuuzs.com/contest/2012/05/kat-balog-triple-chocolate-fruit-pizza/